CHOOSE THE RIGHT INTERNET SPEED FOR YOUR BUSINESS
Fast, reliable Internet is vital to the success of your business, and it's essential to have all the speed you need.
How to Determine Your Speed Needs
Getting it right is more about what you do online than the size of your business. Here are some factors to consider:
The Programs and Apps You Use Regularly
Businesses that access the cloud frequently, participate in video conferences, and use applications to connect with customers require faster Internet.
The Size of Files You Upload and Download
If you primarily work with small file sizes, you're probably fine with a connection on the lower end of the spectrum. However, if your business involves sending or receiving large files, opting for a faster speed can be more convenient and help boost productivity.
The Number of Devices Connected to Your Network
The more devices that connect to your network, the greater your needs. If your team utilizes multiple smartphones and laptops, or if you allow customers to access your wireless network, you likely will need more bandwidth.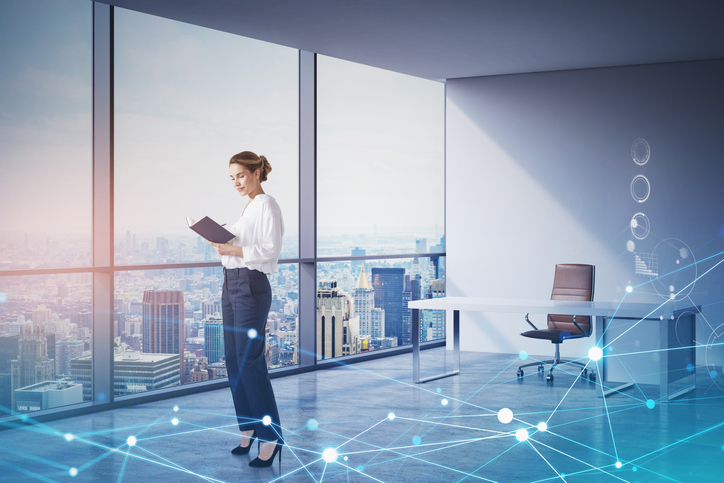 Upload vs. Download Speeds
Many Internet providers focus on download speeds. But in today's world of cloud-based business and virtual conferencing, upload speeds can make all the difference. If you send large files or rely heavily on video conferencing, a faster upload speed can minimize file transfer time and limit buffering during video calls. In this realm, a fiber connection is superior to all others because it can provide faster upload speeds.
What Internet Speed Do I Need for My Business?
Here's a chart to help you get a handle on what speed range is best for you. If you still need help deciding, give us a call at 1-844-483-7249.
| | Up to 100Mbps | 100-300Mbps | 600Mbps-1Gig | Dedicated fiber access with level service agreement |
| --- | --- | --- | --- | --- |
| Online browsing, email, point-of-sale systems, video streaming, basic VoIP service, and sharing small files. | | | | |
| Frequent cloud access, occasional video conferencing, online data back-ups, file sharing, and moderate VoIP usage. | | | | |
| Sharing large files, hosting your own server, lots of HD streaming, large online backups, heavy VoIP usage, and video conferencing. | | | | |
| Enterprise-level businesses that need to serve multiple locations or require guaranteed bandwidth and services. | | | | |
| | | | | |
High-Speed Internet: Availability varies and speeds shown may not be available at all service addresses. Certain speeds are only offered in areas served by TDS Fiber. Speed ranges shown are expressed as "up to" to represent network capabilities between customer location and the TDS network. Most customers can expect to receive a stable speed within the range of the product purchased as allowed by the quality and capability of the connection; however, actual speeds experienced by customers vary and are not guaranteed. Some customers may receive lower than the indicated speed range. Speeds vary due to various factors, including but not limited to: distance from switching locations, network equipment, delivery technology, and external/internal network conditions. Speed tests may produce inconsistent results due to various factors, including the speed test program or website used, the number of devices connected to the customer's modem, and whether the speed test is conducted over Wi-Fi. Customers that are not receiving the indicated speeds may cancel their service or downgrade to a lower-speed service without any termination or switching charges. In order to maximize Internet speeds above 100Mbps, a gigabit wired Network Interface Card (NIC) and/or a more advanced wireless NIC, preferably 802.11ac or higher is needed. TDS is not responsible for setup and preparation of the wireless router feature of the provided 4-port wireless router, additional equipment charges may apply. Additional cabling or wiring work is the responsibility of the customer. A one-time shipping and handling fee of $14.95 applies on the router. Delinquent accounts may lose service. Certain services not available in all areas. Price may vary by serving area and is subject to change without notice. Delinquent accounts may lose service. Certain services not available in all areas. Price may vary by serving area and is subject to change without notice. TDS Telecom®, TDS TV®, and TDS® are registered trademarks of Telephone and Data Systems, Inc. Copyright © , TDS Telecommunications LLC, All Rights Reserved.