Kick Up Your Internet Connection
Increase your business' productivity and save time with fast downloads of large files
Single & multiple static IP's
20 email addresses included
4-port wireless router included
Priority 24 x 7 technical support
High-Speed Internet Service
TDS business Internet is the fastest Internet service in your area. Connect your business with speeds up to 1Gig* or with dedicated fiber options up to 10Gig. Get the solutions to meet your business needs.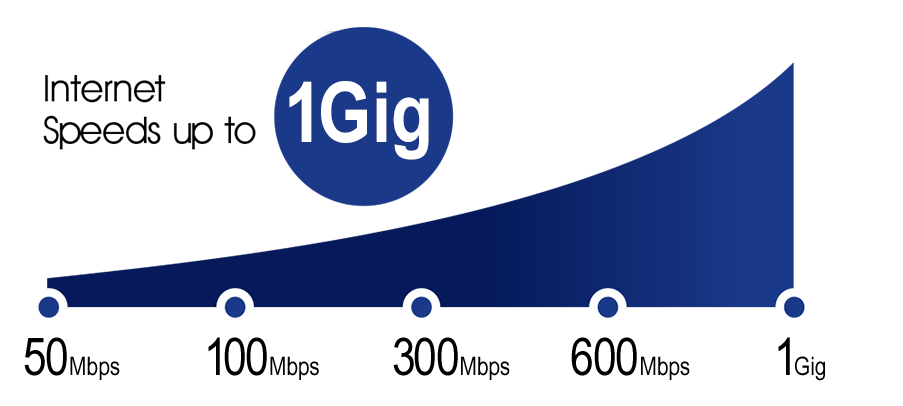 When running a business, we know the importance of fast, affordable and reliable technology. It can make the difference by increasing efficiency and productivity. With millions invested to improve our network, businesses can take advantage of a reliable connection with speeds of up to 1Gig. And with every improvement the affordability just keeps getting better.
TDS Fiber Network
TDS' fiber network offers fast, reliable high-speed internet for businesses. With our high-quality fiber backbone, you can stop worrying about slow internet and start focusing on growing your business.
*Business High-Speed Internet speeds and availability may vary by market. Speeds are "up to". Customer will receive highest stable speed possible based on the quality and capability of the connection and product purchased.
60-Day Risk-Free Trial
We want you to be confident in your decision to switch to TDS. That's why you can try us worry-free for 60 days. If you don't love your Internet service, you can get your money back.
Why Choose TDS Business?
For 50 years, we've delighted customers with local, reliable services
We've invested heavily in our network, meaning blazing-fast Internet is available to you
We have infrastructure that currently supports more than 100,000 business workers
We're so sure you'll love TDS, we're giving you our 60-Day Risk-Free Trial
Business Wi-Fi and Remote Device Support
Limited-time offer valid for new TDS Cable business customers only. 60-Day Money Back Guarantee: If you are not completely satisfied with your TDS experience within the first 60 days, TDS will give you your money back for services billed within the 60-day window. Customer must provide notice of disconnection prior to 60 days after installation and request the "Money Back Offer" at time of disconnection. Pay-per-view charges, international calling charges and charges for unreturned equipment will not be refunded. Please allow 6-8 weeks for refund delivery. Offer cannot be utilized multiple times. Price listed reflects 2-year term rate when Internet bundled with TDS phone service and a 2-year term agreement required. If customer terminates the bundle or any individual service that is part of the bundle, price lock is void and promotional pricing may no longer apply. Pricing does not include taxes, surcharges or federal and state charges. High-Speed Internet availability varies and speeds shown may not be available at all service addresses. Certain speeds are only offered in areas served by TDS Fiber. Actual speeds experienced by customers vary and are not guaranteed. Speed ranges shown are expressed as "up to" to represent network capabilities between customer location and the TDS network. Speeds vary due to factors, including: distance from switching locations and external/internal network conditions. In order to maximize Internet speeds above 100Mbps, a gigabit wired Network Interface Card (NIC) and or a more advanced wireless NIC, preferably 802.11ac or higher is needed. Delinquent accounts may lose service. Certain services not available in all areas. Price may vary by serving area and is subject to change without notice. TDS is a registered trademark of Telephone and Data Systems, Inc. Copyright 2020, TDS Telecommunications Corporation, All Rights Reserved.