Recording on TDS TV+
Using My Shows (DVR) 🎬
Once you select MyShows from the main menu, you will be on the My Shows Dashboard. Scroll left to adjust filters to narrow your choices or scroll down to select a show to watch. Press select to choose a show to play or see episode choices.
While watching a OnePass recording, you can pause, rewind or fast forward using your remote control. To exit a recording, press up or down on your remote to bring up the main menu or mini guide. Select Watch TV or a new show from the guide to exit the current recording.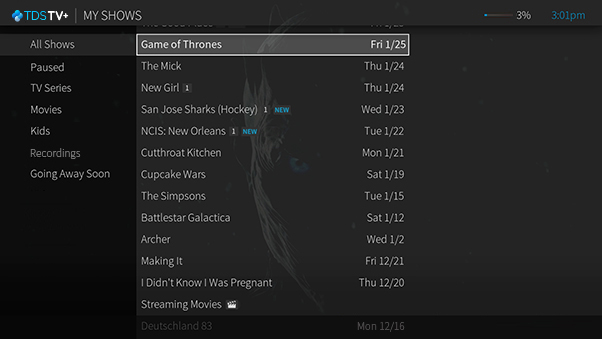 Managing your OnePass Recording Space
The top right-hand corner of the OnePass page shows what percentage of your recording space you are currently using. Manage your free space by deleting shows you've already watched by selecting delete at the end of the show, You can also delete recordings from the main OnePass page by selecting an episode of a show and scrolling right to the

button.
Looking for something else?