Recording on TDS TV+
What is OnePass? 🎬
OnePass is a type of search, which gathers every available episode of a series, whether it's from a streaming app, live TV, or on demand. The results are then added to your My Shows list to access whenever you're ready to watch.
If an episode isn't available on TV, OnePass fills in the gaps with episodes from streaming apps like Netflix*. You'll no longer need to know when a show will be airing or which streaming service has it available: : TDS TV+ does it for you.
For sports, your OnePass search will find matches whether you search by full team or league name, location (e.g., Argentina, Brazil), nickname (e.g., Giants, Bears), or abbreviation (e.g., FIFA, NFL, NCAA, UCLA).
* Netflix streaming subscription required
Search--to find the series you'd like to set up a OnePass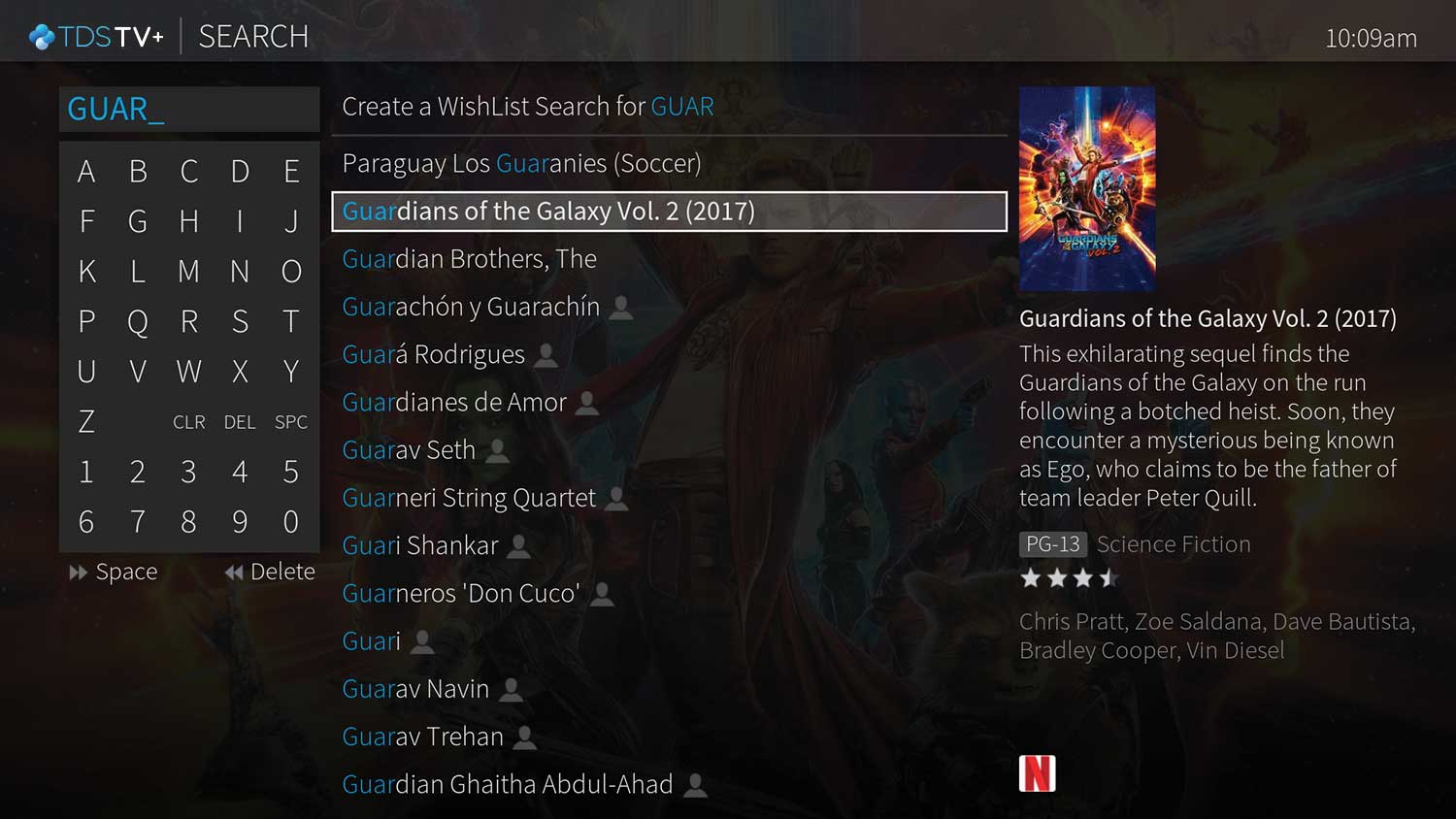 Select 'Get This Show' in the list of options
Then select Create OnePass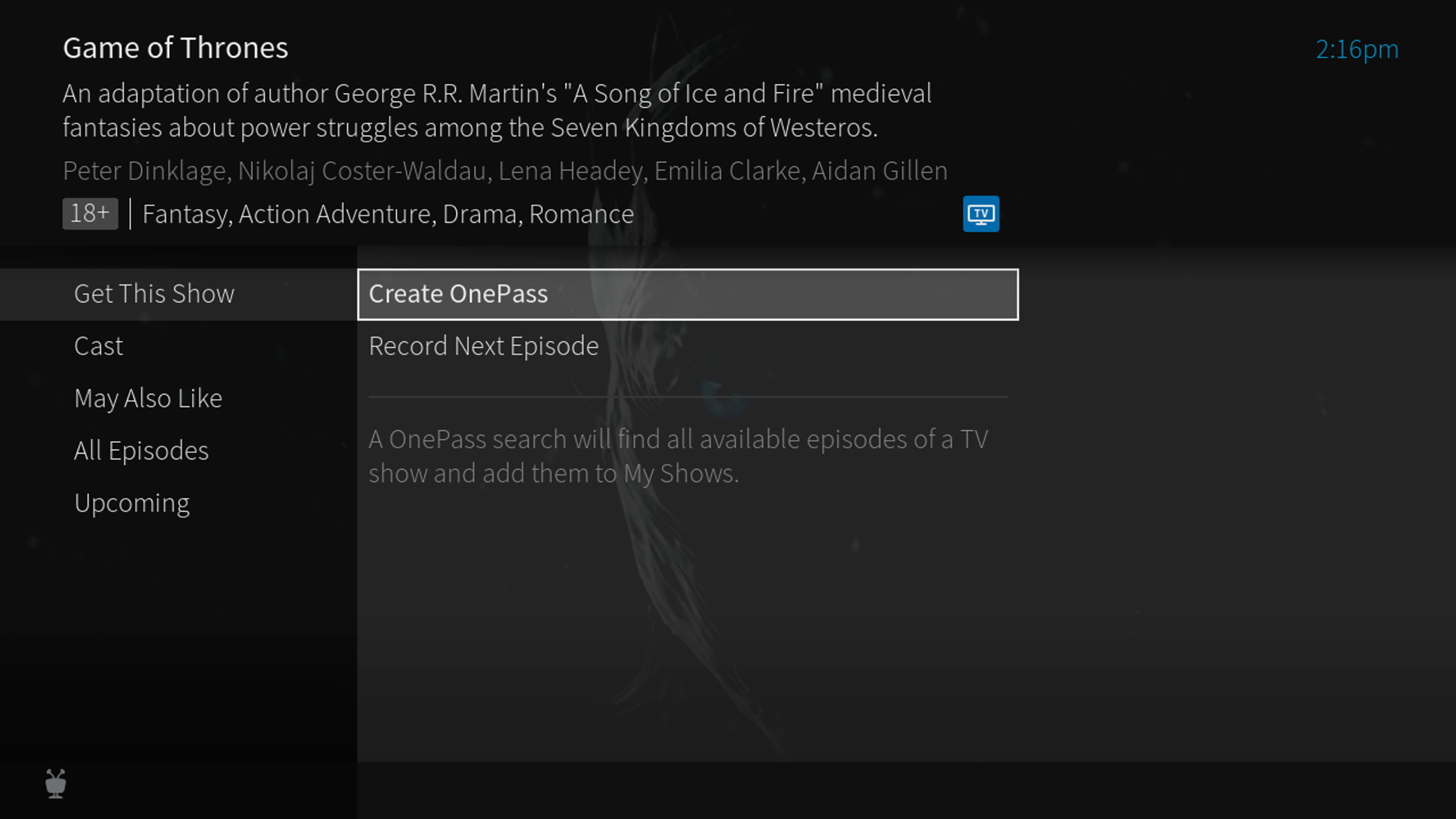 A list of OnePass Options will appear that you can choose from: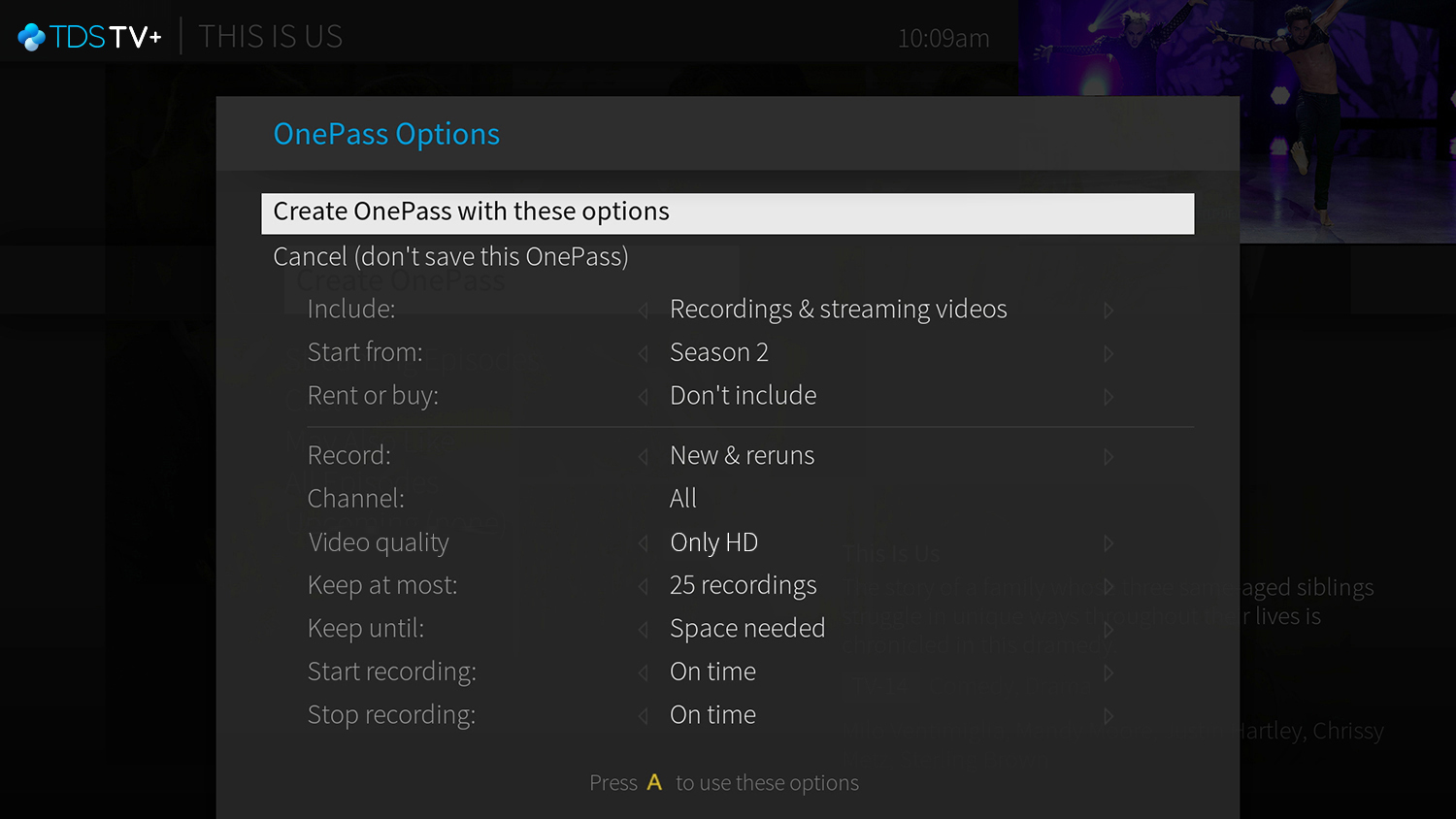 Include: Recordings Only, Streaming Videos Only, or Recordings & Streaming Videos
Options including streaming will search your integrated apps like Netflix for episodes to watch that aren't usually found through TDS TV+. Remember streaming episodes will not use your DVR space.
Start From: Select which season to start recording from or select New Episodes Only
Rent or Buy: Include, Don't Include
Select include if you want OnePass to search for episodes to rent from apps like Vudu. Some shows are available for purchase before being placed on streaming services.
Channel: Search the channel you are recording from, or record from all channels.
Video Quality: When you set the Channel setting (above) to All, you can choose how often to get the HD version of a show:
Tip: If you choose Prefer HD and a show is not available in HD, it won't be recorded. Likewise, if you choose Prefer SD and a show is only available in HD, it won't be recorded.
Keep at most: 10 recordings, 25 recordings or all recordings.
OnePass will delete the oldest recorded show once you reach the maximum number of recordings set by this option
Keep until: Space needed, As long as possible
If you choose "space needed", the recording will be deleted once you run out of recording space on your My Shows account
What's the Long as possible option do? If you choose "as long as possible" the recording will remain until WHAT HAPPENS? In some cases, content providers determine the amount of time a recording is able to be kept. For example, as of 5/8/2020, recordings from CBS, Fusion, and Showtime will auto delete 90 days after being recorded. These reuls are set by content providers, TDS TV+ has no control over them.
Start Recording: On Time, 1-10 minutes early
Stop Recording: 1 minute to 3 hours longer
Tip: Set live sports to record at a minimum 60 minutes over to catch overtime!
Once you've selected all of your series recording OnePass options, select 'Create OnePass with these Options' you'll see a confirmation banner swipe through on the bottom right of your screen to verify the OnePass has been created.
Modifying a OnePass Series
1. OnePass options can be changed by going to the Navigation Bar
2. Scroll left to Menu.
3. Scroll down to Settings and select OnePass Manager.
4. Scroll to the show you want to modify and press ok. Select modify OnePass.
Tips: Be sure to select 'Use these OnePass options' when you're finished making updates. Select 'Cancel this OnePass' to stop all future recordings.
Looking for something else?