Getting Started with TDS TV+
How do I navigate TDS TV+ from the home screen?
The Home Screen is the starting point for just about everything you do with TDS TV+. From the Home screen, you can easily access popular destinations, get personalized recommendations from the SmartBar, What to Watch daily recommendations, and watch the currently playing show.
To get to the Home Screen from live TV or any other screen, just press the TiVo button on your remote control or press down on the navigation pad while watching TV.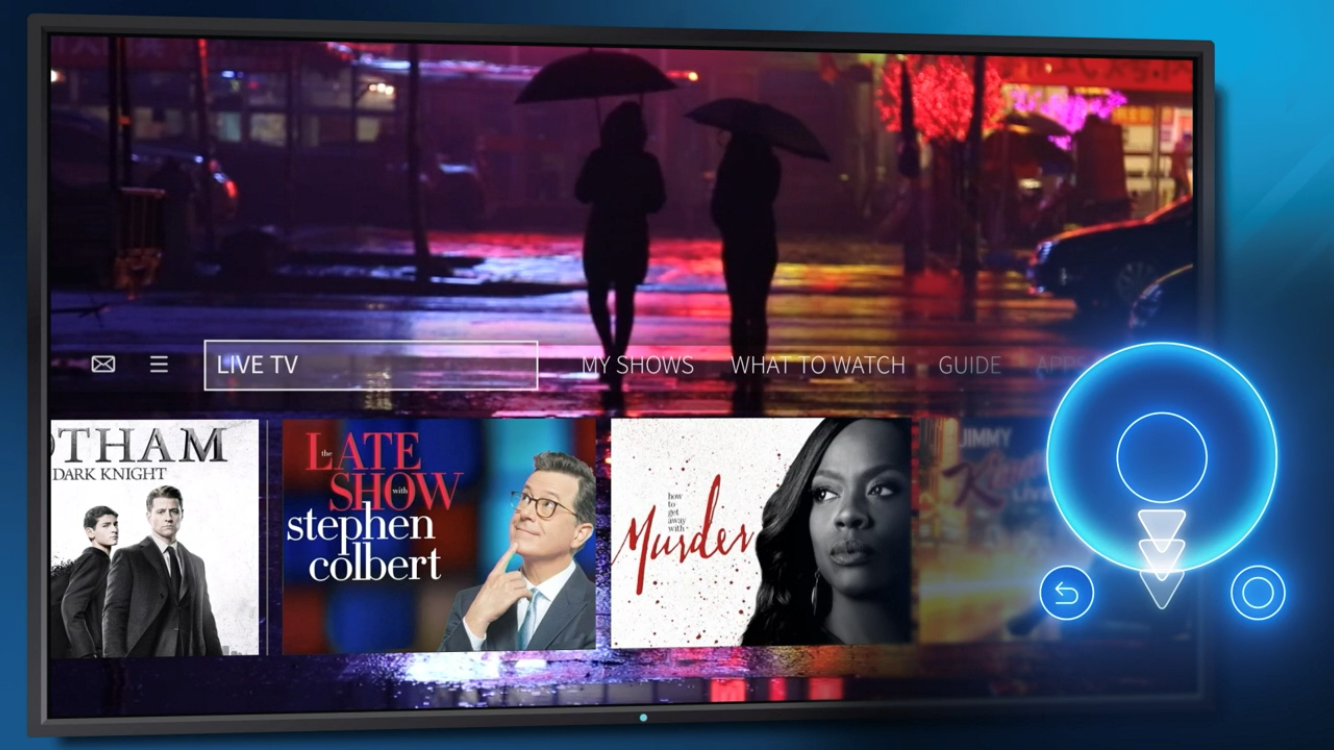 Navigation Bar
Home Screen menu items, which display across the middle of the screen, take you to commonly used TDS TV+ screens. Use the navigation buttons (up, down, left, right) on your remote control to move between menu items, and press the OK button to choose one. Use your remote's BACK button to go back to the previous screen.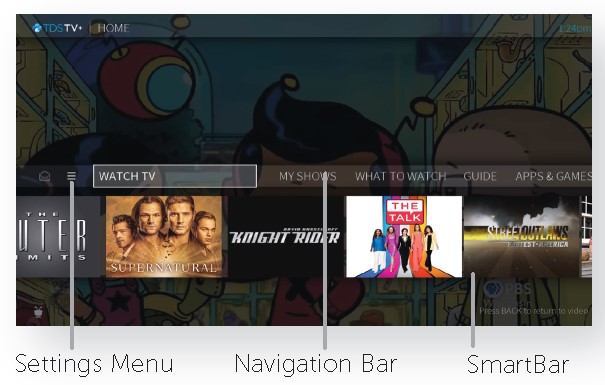 Navigation Bar – scroll left or right on remote to select an option
SmartBar predicts shows to watch based on what your household usually watches at a particular time of day.
SmartBar Options
Watch TV jumps to live TV channels.
My Shows lists your saved videos and recordings, so they're ready to access, no matter if they're TV recordings, on-demand shows, or streaming from apps like Netflix.
What to Watch lets you browse shows available to stream, watch live, record, or bookmark, and is divided into popular categories.
Guide launches the on-screen program guide.
Apps & Games gives access to your device's video, music, and game apps downloaded from the Google Play store. You TDS TV+ box can operate apps like a Roku or Amazon Fire Stick.
On Demand takes you to the TDS TV+ Video On Demand menu.
Search allows you to find programming by title, actor name, or keyword — across TV, video on demand, and popular streaming apps all at once
Looking for something else?