Account Users
Add or Remove Administrative Rights
Understanding Administrative Rights
Users with Administrative rights on an account (account administrators) have certain privileges other account users do not have. They can access Online Bill Pay and manage other users on the account (add/remove/change users).
The first user who creates a TDS Online Account is assigned administrative rights and therefore becomes the account administrator. That user can then add additional users and assign administrator or not, depending on the level of account access they want the user to have.
Non-administrators are only able to make changes to their user name. They do not have access to Online Bill Pay.
Are you an Account Administrator?
To find out, log in to your TDS Online Account. Then, look in the Manage Account menu. "Manage Users" will be listed in the menu if you are an Account Administrator.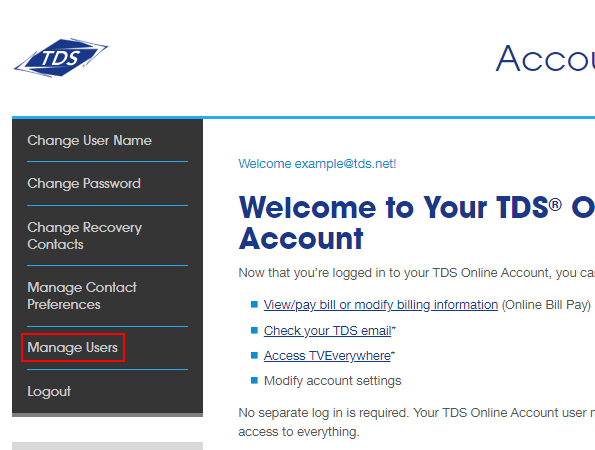 Add or Remove Administrative Rights
*Only Account Administrators can modify other user's account rights.*
Take note: Automatic notifications of account changes are not sent to the users on your account. Therefore, you may want to communicate the changes you are making to the specific users.
Log in to My Account, click Manage users in the menu to see all users on your account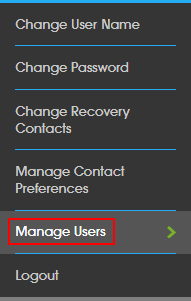 On the Manage Users screen, scroll down to the Current Users section. Find the user name you want to change administrator rights for, and click the Edit button.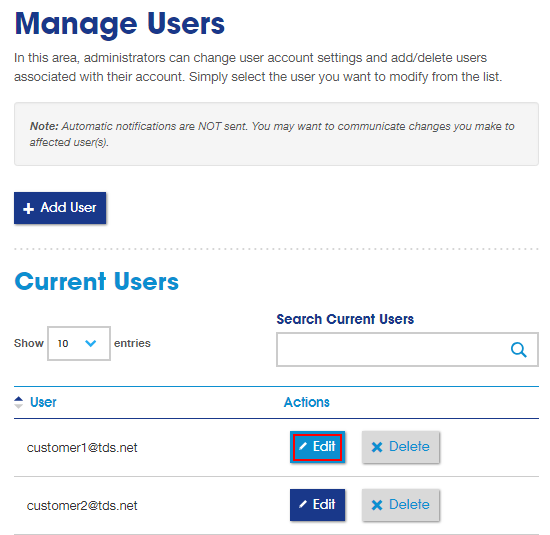 In the Account Settings section, select Yes or No next to the "Make this user an Administrator" statement and then click Save Changes.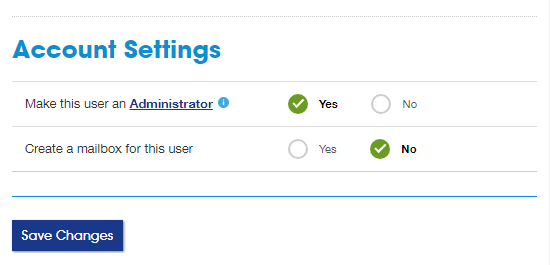 In you need additional support, contact Technical Support at 1-877-422-5282.
Looking for something else?